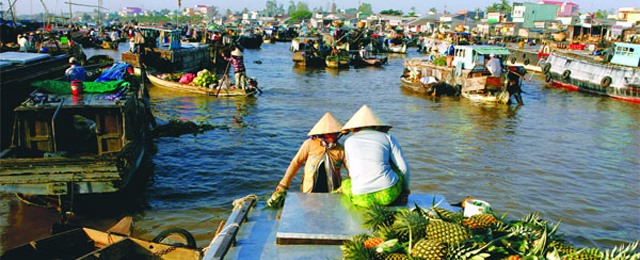 Tour operators in HCM City have had to drop so-called "floating tours" to the Mekong Delta from September to November, which is supposed to be the flooding season in the delta, as floods have not come to the region this year. — Photo mekongdeltaexplorer.com
Viet Nam News

HCM CITY — Tour operators in HCM City have had to drop so-called "floating tours" to the Mekong Delta from September to November, which is supposed to be the flooding season in the delta, as floods have not come to the region this year.

Nguyễn Thi Tuyết Mai, marketing manager of the HCM City-based Bến Thành Tourist, said it is a big loss for the company when removing tours to the Mekong Delta during the flooding season as the firm served more than 1,000 guests booking the tour last year.

Bến Thành Tourist launched the tour to the Mekong provinces of An Giang and Đồng Tháp last year, attracting not only travellers from HCM City but also from northern provinces

Other travel currently operating tours of the Mekong provinces are Saigontourist and Fiditour, both based in HCM City.

Nguyễn Ngọc An, director of Fiditour's Domestic Department, said the firm still offers the tour to An Giang Province but has lured few visitors as people are aware of the low floodwater levels in the delta. – VNS
Source link