Viet Nam News

By Trần Mai Hưởng & Phạm Lộc

The early morning sun shines all around. Clouds hang on mountains near and far mountains. Villages dot the immense green rice fields stretching into the distance.

The Bắc Sơn region in northern Lạng Sơn Province was once the home of a culture that existed 10,000 years ago. Various archaeological traces unearthed in the area show that humans existed here from a period known as the New Stone Era. Caves have retainded traces of these primative people.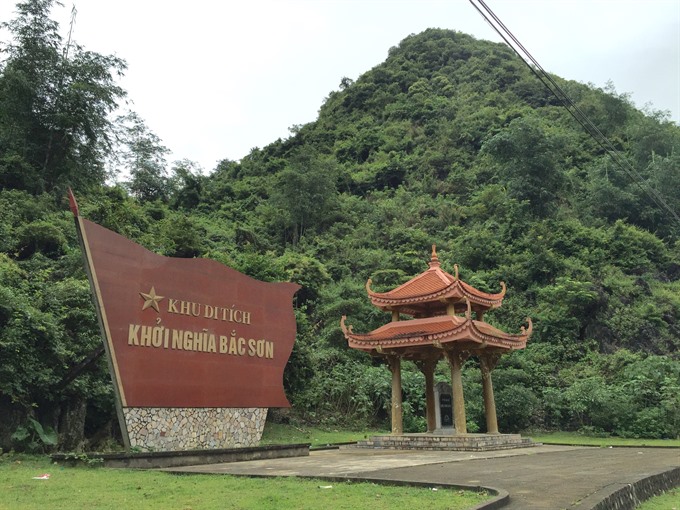 War time: A remnant of the old revolutionary base in Bắc Sơn Town. — VNS Photo Trần Mai Hưởng

Bắc Sơn also has a rich, modern, revolutionary tradition starting with the Bắc Sơn Revolution in 1940, the first armed revolution led by the Việt Nam Communist Party against French and Japanese invaders. Names such as Khuổi Nọi Forest, Nông Lục Communal House and Mỏ Nhài Military Post are all associated with heroic fighting days.

I first visited Bắc Sơn with photographer Văn Chức nearly 30 years ago, when the đổi mới (renewal) process started. Like other areas throughout Việt Nam, Bắc Sơn was having a hard time, with poor vilalges, needy people, under-developed infrastructure.

I remember old Bắc Sơn Town. When night fell, it was so dark with almost no light in the streets. But the public loudspeaker echoed throughout the town, making it less boring.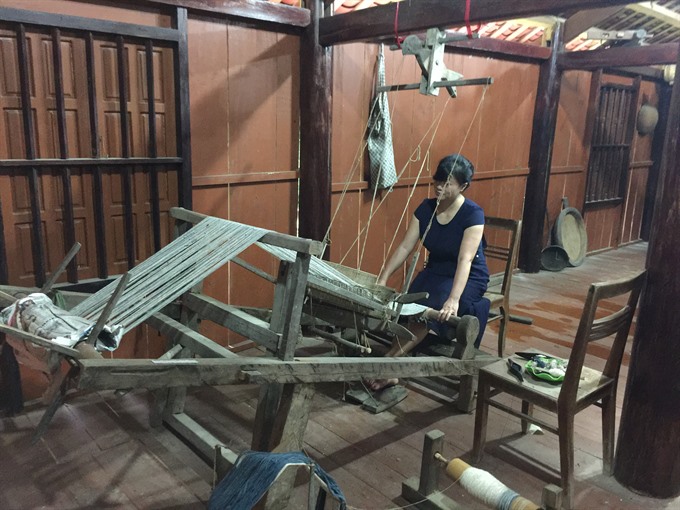 Still weaving: Traditional weaving skills are still popular in the area. — VNS Photo Trần Mai Hưởng

That year produced a bumper crop of  mandarin oranges. Prices dropped so low, farmers had to give the fruit away because the roads were so bad and there were few vehicles.

After that trip to Bắc Sơn — following a trip to Tân Trào, U Minh and the central highlands — I wrote an article titled: "Please don't forget the old revolutionary bases!" to remind authorities that the areas that produced revolution should be given special care.

Bắc Sơn has changed much now. This time, I am stunned at a town with many multi-storey houses along the main roads while many villas and hotels mushroom along surrounding roads. Restaurants, shops and central markets draw big crowds. Groups of tourists pass every day along the main road running though the town. Bắc Sơn Museum and the high television tower on top of Nà Lay Mountain were the main features of the old Bắc Sơn.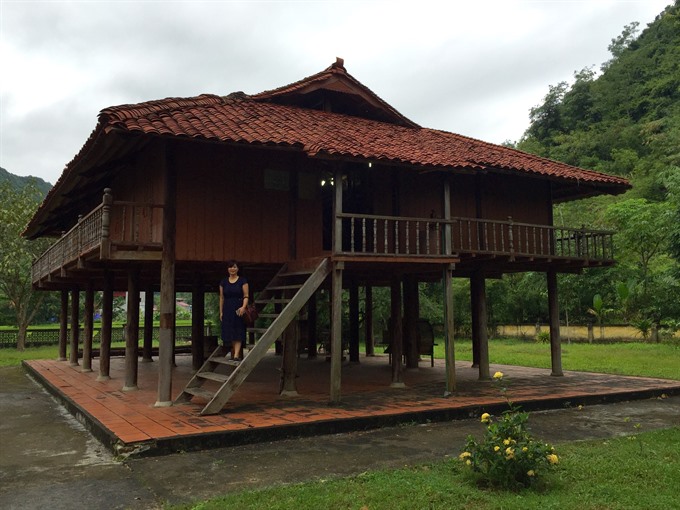 Tai style: A house on stilts inside Bắc Sơn Revolutionary Museum. — VNS Photo Trần Mai Hưởng

During time in Bắc Sơn, we have visited various places in the district and seen changes in local life. The roads have been improved, enabling cars to reach villages easily. Electricity has led to huge developmen in Bắc Sơn's economic, cultural and social development. Cattle farming and forestry has developed well. Tourism, small industry and services have also improved. Culture, education and health have achieved varying success.

According to Tô Bắc Thái, chairman of Bắc Sơn District's People's Committee, the average growth rate of the district is more than 9.1 per cent, the average income last year reached VNĐ27 million (US$1,200) — and the number of poor fell by 22.56 per cent.

We visited Quỳnh Sơn Village, a tourism destination. Hundreds of houses on stilts all facing south owned by Tày people have been built in the old style with yin-yang tiled roofs. This has created a united space luring both domestic and foreign tourists.

Melodious sounds of đàn tính (traditional lute of the Tày), sweet folk songs and wine attract tourists.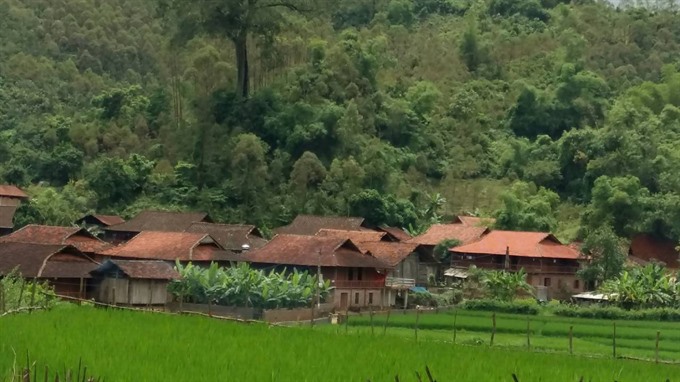 Peaceful: Quỳnh Sơn Village offers a glimpse of a tranquil life. — VNS Photo Trân Mai Hưởng

In Quỳnh Sơn Village, we visited a workshop producing yin-yang tiles for hundreds of years.

We also visited Thẩm Khuyến Cave, once a home to stone-age people, relics of the Bắc Sơn revolution, Nông Lục Commune, whish hosted the meeting that decided on revolution 77 years ago.

We watched the scenery from Tam Quan Pass, where the shadow of the mountain mingles with green colours of fields and trees. On top of Nà Lay Mountain, photographers from our group had a chance to take aerial views of Bắc Sơn Town with villages and fields like an embroidery painting.

Bắc Sơn Museum now has more spacious exhibition halls. Visiting the museum again, I understand clearly the long history, traditions and cultural features of Bắc Sơn.

Beside the main building, a new house on stilts has been built with full sets of working tools and household utensils for visitors to imagine a typical living space of the locals.

"In 2016, about 17,000 visitors came to the museum," said Dương Thị Tốt, director of Bắc Sơn Revolutionary Museum, "Since the beginning of 2017, we have received 72,000 visitors."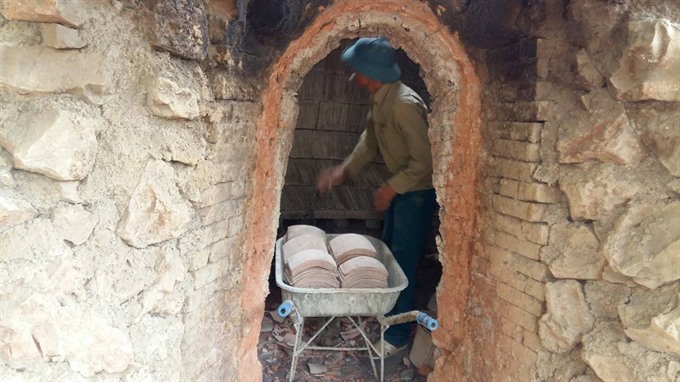 Old kiln: The only yin-yang brick tile workshop in the town. — VNS Photo Phạm Lộc

Among objects, we paid attention to a photo of noted composer Văn Cao and his song titled Bắc Sơn with music notes, the musician's signature at the end and also the signature of the legendary General Võ Nguyên Giáp.

Composer Văn Cao wrote the song for a drama under the same name by writer Nguyễn Huy Tưởng in 1945, even though he had never set foot in Bắc Sơn. Yet the song has won the hearts of many generations of Vietnamese people.

Bắc Sơn, in the song, will be rememembered by Vietnamese patriots with the "familiar green of the old military base". And its referral to the blood of martyrs colouring the forest leaves. — VNS
Source link