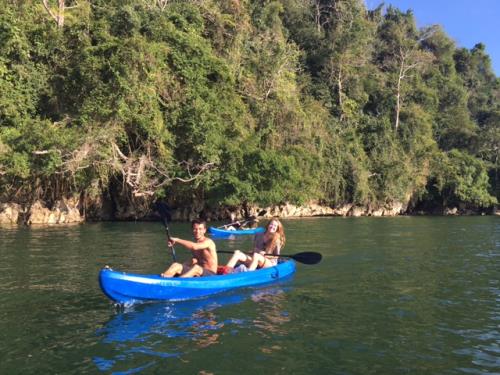 Ba Bể Lake, recognised by UNESCO as "a wetland of international importance", is at the heart of Ba Bể National Park in Ba Bể District. VNA/VNS Photo
HCM CITY Bắc Kạn and Tuyên Quang provinces are creating a tour that will take visitors to Ba Bể Lake in Bắc Kạn, the country's largest natural lake, and the Na Hang – Lâm Bình Nature Reserve in Tuyên Quang.
Ba Bể is made up of three smaller lakes, Pé Lầm, Pé Lù and Pé Lèng. The lake is surrounded by a complex system of mountains, valleys, rivers, waterfalls, caves and villages steeped in traditional ethnic minority cultures.
The 61,300-ha Na Hang – Lâm Bình Nature Reserve is set in a remote jungle along the banks of the Gam and Nang rivers.
Known as the "Hạ Long Bay" in the middle of a jungle, its reserve is home to magnificent caves and a diverse ecosystem with many species of endangered flora and fauna, including the Tonkin snub-nosed monkey. VNS
Source link