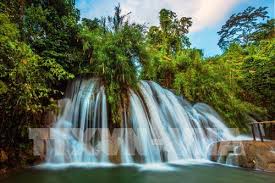 At the foot of the falls is the natural Na Hang Lake, a place for visitors to swim. The lake with its cool water, set amidst rocks, is especially inviting on hot days. VNA/VNS Photo

HCM CITY Marvelous rock structures jut out of Na Hang Lake in the northern province of Tuyên Quang, looking like the more famous Hạ Long Bay.

Tuyên Quang, 130km to the northwest of Hà Nội, might never pop up in any top 10 tourist attraction list in Việt Nam, but its spectacular landscapes surprise many visitors. It has many pristine lakes and green mountains, but the 8,000-hectare Na Hang – Lâm Bình lake is arguably the most magnificent.

The lake lies at the intersection of the Gấm and Nàng rivers, surrounded by mountains and looking like a miniature version of Hạ Long Bay with its small islets. A boat trip on Na Hang Lake, usually lasting four to five hours, takes visitors through several stops. VNS
Source link